Spey casting tuition
The perfect cast is every fly fisherman's dream. Gary can teach beginners how to fly fish and help anglers of all levels to improve their fly casting. We have listed below some possibilities for you to consider.
All styles of casting can be taught from overhead to snake roll with Spey casting a speciality. The instruction is tailored for all levels of experience. Video is often used to record your cast and your progress, providing you with feedback on how you have progressed during the day. The main aim of the day is a stress-free and relaxing day on a wonderful river.
Advice on all aspects of casting and fishing can be given and all tackle can be supplied.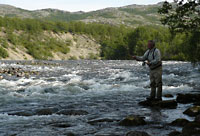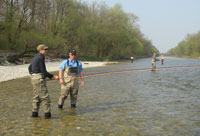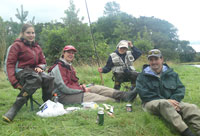 Clients can meet Gary at his local teaching venue, or if they prefer, at a venue of their choice. If clients choose their own venue then travel expenses will be included in the overall costs. If the client's venue has a resident ghillie then it is essential that Gary's presence as an instructor is cleared by the ghillie prior to the booking. Where appropriate lunch can be arranged.
Overhead Cast
Roll Cast
Jump Roll
Single & Double Spey Casts
Snake Roll
Learn how to cast further with less effort
Casting into the wind
Perfect your timing
Improve your accuracy and presentation